Can a song help stop the spread of a deadly disease? The Kids Against Malaria hope so. The message of their song is simple: sleep under an insecticide treated mosquito net and get to a doctor as soon as you're feeling sick.
Despite fading from the headlines, malaria is still endemic in much of the world. About 3.2 billion people - nearly half the world's population - are at risk. The disease, spread by the bite of female mosquitoes infected with Plasmodium parasites, is most deadly for pregnant women and children under the age of five. 1,200 children a day are dying from malaria around the world. And malaria is both preventable and curable.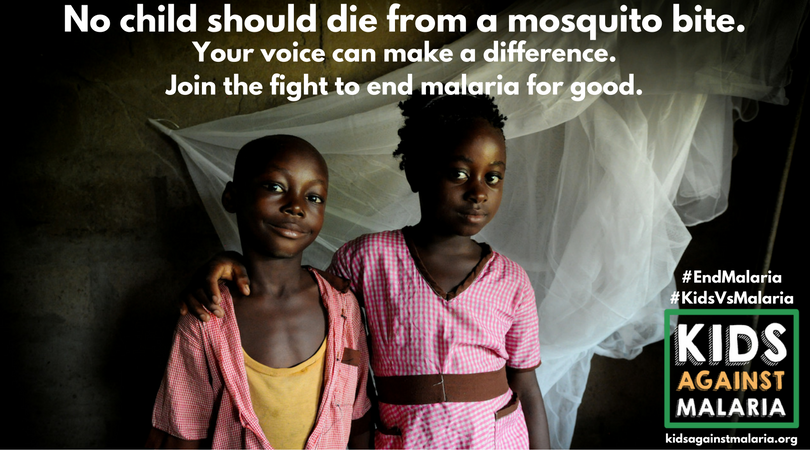 The Kids Against Malaria campaign began with a song written by teacher Sim D' Souza and his students at an elementary school in Benin, West Africa known as CIAMO (a French acronym for "The International Center for Art & Music in Ouidah"). The one of a kind arts school sits under the shade of giant Iroko trees in the beautiful coastal village of Ouidah. CIAMO was founded in 2010 by award winning environmentalist, educator and filmmaker Sarah DuPont and her good friend and humanitarian Gigi Hancock, wife of Herbie Hancock. The school, which now has 500 students is a thriving, free community-based school and after school program for kids ages 5-12 run daily by Dah Kidjo, brother of international star and musical icon Angélique's Kidjo.
The kid's song made its way to musician and filmmaker Jon Fine, who immediately saw the possibility for using the project as a tool for increasing awareness around malaria prevention and treatment. Jon, a documentarian who's work includes "Herbie Hancock: Possibilities" and Bill Withers' "Still Bill," produced the song by enlisting the support of an all-star group of musicians to play on the song including Martín Perna, members of afrobeat band Antibalas, Logozo, Gangbe Brass and Grammy award winner and UNESCO Goodwill Ambassador Angélique Kidjo. From there, the project took on a life of its own, as artists, communities, filmmakers and organizations came together in support to launch "Kids Against Malaria," a multi-language musical project focusing on malaria treatment and prevention. With the international team, they filmed and recorded in NY and Benin with support from the US Embassy in Benin, UNICEF, The President's Malaria Initiative, USAID, Peace Corps,
the CDC, The UN Foundation and Harvard University.
"Sarah and I talked about ways to amplify the student's message," Jon relays. "We were thrilled when Angélique Kidjo jumped on board to reimagine the song and film with the students. To produce Kids Against Malaria, we brought together a remarkable team from Benin, the USA and France. With support from the US Embassy in Benin, USAID, The State Department, UNICEF and the Centers for Disease Control and Prevention (CDC), we refined and shaped the narrative of the video, designing a message that works on radio, TV and online. This message is urgent, despite fading from the headlines; we must keep the fight against malaria high on the international agenda. This is a disease that we can beat."
Co-producer Sarah DuPont adds that, "As the co-founder of CIAMO, I became intrigued with the idea of empowering our kids to use the arts to create their own musical voice against the most virulent killers of children today - malaria. The Kids Against Malaria project showcases our greatest abilities as humans to create beauty, problem solve and work together for a safer and better world."
"I am a great believer in music as being the ultimate weapon to break silence and to move things forward," says Angélique Kidjo, who in 2013 was dubbed "Africa's greatest living diva" by National Public Radio. "You hear the joy the children have in singing this song. It is about time we really tackle the eradication of malaria in this world."
From the tiny classroom in Ouidah, the kid's message has been amplified to be shared globally on radio, online and on TV. Kids Against Malaria is a call to the world to keep the focus on the fight for the elimination of malaria. Malaria is a disease we can beat, awareness and political will are key. This disease affects children and mothers, the most vulnerable population disproportionately. Help them spread the word!
From downloads, to music videos, to ringtones, to educational videos, to social media initiatives and more, all monies earned from the song will benefit CIAMO School of Music (for arts education), The UN Foundation's Nothing But Nets campaign (to purchase nets) and Harvard University's Defeating Malaria: From the Genes to the Globe initiative (for Malaria research). For more on information about the Kids Against Malaria project, please visit Kidsagainstmalaria.com.
Special thanks to: CIAMO Students, Angélique Kidjo, Jean Hebrail, Logozo, Antibalas, Gangbe Brass, Sarah DuPont, Jon Fine, Martín Perna, Dah Kidjo, Sim D'Souza, Herve Cohen, Heather Mytelka, Ambassador Lucy Tamlyn, Paco Perez, Chris Schirm, Hadrien Bonnaud, Kanishka Gangopadhyay, US Embassy in Benin, Benin Ministry of Health, ISMA, UNICEF, USAID, Harvard University, United Nations Foundation and the Peace Corps.